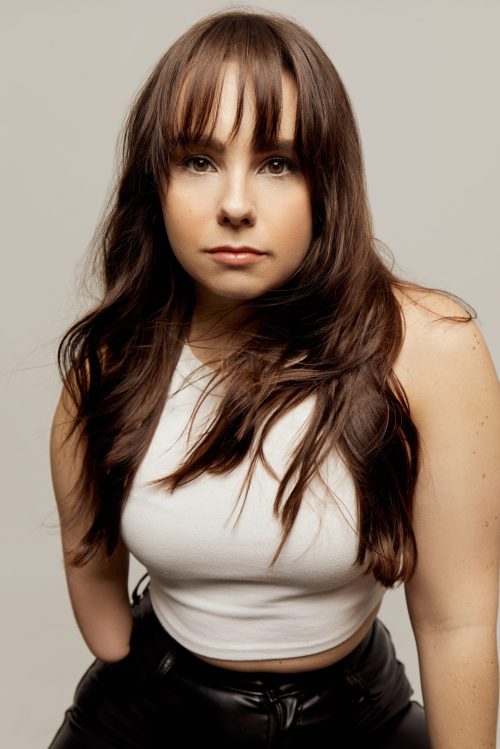 Kiersten Kelly is a Los Angeles-based actor, singer-songwriter, and model. Born and raised in a small town outside Pittsburgh, PA, Kiersten spent her time growing up exploring her artistic interests.
Kiersten has always craved music, starting singing lessons at a young age. She began training in musical theater and classical music before shifting her focus to pop. She also became interested in guitar and went to Hanger Clinic to have a prosthesis created specifically for strumming.
Around this time, Kiersten covered the 'Cup Song' from the movie "Pitch Perfect," and 24 hours later, the video went viral and accumulated thousands of views on various platforms, and landed performance opportunities and interviews.
While at Berklee College of Music with a City Music full scholarship, Kiersten leaned into songwriting, finding her voice and gaining more experience performing.
Her single 'Gone' received radio attention in the first week of release. Kiersten continued to work on her artist project and wrote with many established writers in Los Angeles, Nashville, and New York. Kiersten's latest single releases are 'Little Too Much' and 'Bad News.'
Aside from music, Kiersten is an actor signed with KMR Talent, one of the leading talent agencies in the country. She has worked on commercials for Walmart, Google TV, and YOU.C1000 Vitamin with Miss Universe, gaining over 32 million views. She has also worked with Google Meet and Supernatural. Kiersten was acknowledged by the well-known social media-focused news organization, NowThis for her remake of the Mean Girls 'Four-Way Call' scene to normalize disabilities on screen. The remake received a positive response, gained 2.2 million views, and landed her in a feature film.
Kiersten is also a model signed with Onyx Unity. She has modeled for an about-face by Halsey beauty campaign, Google, Fruit of the Loom, Cricket Wireless, and more.
Outside of entertainment, Kiersten is passionate about disability awareness, being born without her right forearm. The medical term for her disability is congenital trans-radial absence, but she uses the term limb difference and disability in her day-to-day life. Kiersten hopes to be the role model she never had growing up because no one looked like her in magazines, TV shows, movies, music videos, etc. She wants to normalize disabilities on and off screen.